A Boca Raton plastic surgeon says you no longer have to live with unsightly scars. Whether it's a surgical scar or a scar from some sort of accident; we all have them. Scars develop when protein-based collagen fibers form to mend the damage and replace the wounded skin. Some of the elements that can have an effect on scars are exposure to sun, your skin type and genetics. All of these things play a role in how your scar heals. Once that scar has developed, most people believe they have to live with the scar.  "Not anymore", says board certified plastic surgeon, Dr. Jason Pozner. He says, "For the last twelve or fifteen years we've used various lasers to help treat all kinds of scars."

By Jason Pozner, MD
and Carolynn Grimes
ThePlasticSurgeryChannel.com
Lasers Help Reduce the Appearance of Many Types of Scars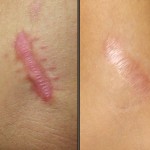 Keloid Scarring- Raised, reddish scars that extend beyond the initial wound area and build over time.
Hypertrophic Scarring- Firm, raised, pink scars that remain within the initial wound area and may fade gradually over time.
Atrophic Scarring- Depressed pin-like pockets in the skin that can result from skin conditions or acne.
Contracture scars- Flat, tight scars that constrict movement, usually caused from burns.
Dr. Pozner says over the last few years there have been new lasers introduced that give excellent results in scar treatment. These are the CO2 fractional and Erbium lasers. "Both give good results treating scars," says Pozner, "whether it's a fresh surgical scar or a mature surgical scar, a burn scar, keloid scar, or hypertrophic scar; we can now treat them all."
How Lasers Work to Remove Scars
The laser beam gently vaporizes skin tissue to improve anything from wrinkles, to unsightly scars. The CO2 and Erbium fractional lasers drill small holes in the scars and cause the scars to remodel with normal tissue. If your scar is red or raised you can go to your dermatologist or plastic surgeon's office that have these devices and have your scars treated. Pozner says, "We've had some amazing results treating these scars. It takes a few treatments, but using these new therapies we've seen huge changes in scars that were previously untreatable."