Many women would like the look that a breast augmentation can deliver, but avoid the procedure because they don't like the thought of  having an actual implant in their body.  Breast augmentation with fat grafting involves no incisions, no new scars and no foreign objects. Dr. Peter Rubin, chairman of plastic surgery at the University of Pittsburgh, discusses fat grafting and the benefits of transferring your own fat to your breasts.
By: Dr. Peter Rubin, MD
and Susan Kamyab
ThePlasticSurgeryChannel.com
The Fat Grafting Procedure
"Fat grafting is a procedure that has been very popular for facial cosmetic surgery for a number of decades.  Recently there's been a growing trend to use fat that's collected by liposuction techniques. Surgeons process the fat in the operating room and then with specialized instrumentation re-inject the fat into the breast. This procedure is beneficial for patients seeking both cosmetic procedures and reconstructive procedures, especially breast reconstruction after cancer," explains Rubin.
Do I have Good Fat?
"If you're considering having your own fat transferred for breast augmentation or breast reconstruction, you want to think about your own family history of breast cancer and your own personal history of breast cancer.  You'll  also want to talk to your doctor about how the technique may impact cancer screening and the recurrence of cancer," says Rubin.
Fat grafting to the breasts is still new, so you want to make sure you talk to your doctor about all the latest research when considering this procedure.
I Already have Breast Implants but I'd prefer Fat Grafting
"One of the ways in which fat grafting to the breast has been used lately, is to actually replace existing implants with fat from a patients own body. For example, we've treated patients who have had problems with implants and we've been able to remove the implants and use their own fat to rebuild the breast."
Benefits of Fat Grafting
Beside the fact that fat grafting to the breasts is minimally invasive and you'll never have to deal implant problems, there are many other benefits with this procedure.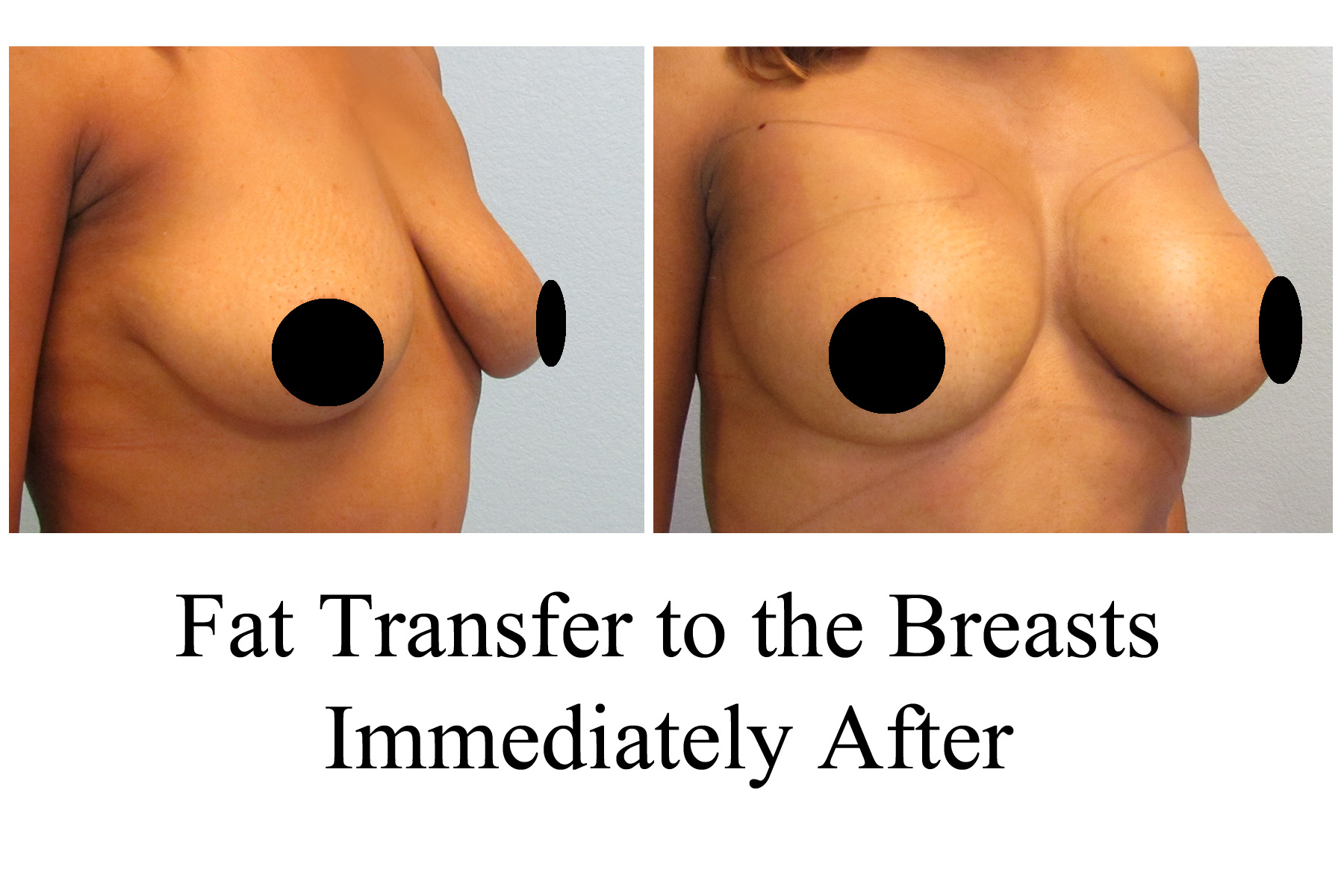 No foreign object in body- fat is removed from one area of your body and carefully injected back as hundreds of tiny individual droplets in the breast site.
Liposuction– fat is removed from the thighs, buttocks and stomach, or wherever there is fat to spare.
Quick Recovery– because there are no cuts or incisions, the average recovery time is 2-4 days.
Fat Grafting Becoming Increasingly Popular
"Seventy percent of  U.S. plastic surgeons have used fat grafting techniques for breast operations, but they are more likely to use it for breast reconstruction rather than cosmetic breast surgery," reports Rubin in a study featured  in Plastic and Reconstructive Surgery. Rubin says at one time fat grafting to the breast was discouraged, but now it's an increasingly common plastic surgery technique.  "As this field evolves, plastic surgeons will better understand the factors that lead to the best long term outcomes," says Rubin.