How could one of the most stunning and beautiful women in the world choose to have a double mastectomy? For most, it is a hard concept to grasp, but that is exactly what Angelina Jolie did in February of 2013. After she completed the 3 month surgical process, she published an op-ed piece in the New York Times sharing her decision in an effort to educate women about BRCA testing, its implications and their options. Dr. Robert Whitfield, of Austin, Texas, says, "We have many young patients come in having been tested, found they are positive, understand their options after genetic counseling and they are opting for double mastectomies and reconstruction."
by Robert Whitfield, MD
The Plastic Surgery Channel
Balancing expectations with reality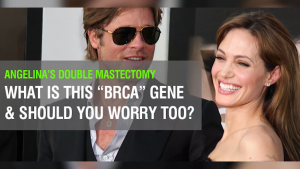 Dr. Whitfield finds that patients who opt for this dramatic, potentially lifesaving operation have a very high standard for how they want to look.  Balancing expectations with reality is a critical component of successful patient education and ultimately, patient satisfaction following breast reconstruction.
In one case in particular, this young patient tests positive for the BRCA gene and elects to have a double mastectomy and reconstruction.  She has always been very asymmetric and the differences in her breasts have always bothered her.  Herein lies the silver lining.  With her choice to reduce the risk of developing breast and ovarian cancer, she also will have the opportunity to have a Mommy Makeover of sorts.  To reconstruct her breasts, Dr. Whitfield used the DIEP flap procedure, "tissue from the lower abdomen connected to the skin, fat and blood vessels of that area is transported to the chest and thru microsurgery is reconnected to the blood vessels underneath the chest wall creating a natural breast reconstruction."  This technique allows shaping of not only the breasts it is reconstructing, but of the abdomen too.  It is important to note that no implants were used in this reconstruction.  The increased fullness in the patient's breasts is achieved  naturally;  from the patient's own tissue.
Raising awareness
Like Angelina, this patient wanted to decrease her risk of developing cancer down the road.  CNN quoted Ms. Jolie as stating, "My doctors estimated that I had an 87 percent risk of breast cancer and a 50 percent risk of ovarian cancer, although the risk is different in the case of each woman, once I knew that this was my reality, I decided to be proactive and minimize the risk as much as I could. I made a decision to have preventative double mastectomy." BRCA gene testing rates increased by nearly 40 percent following Jolie's announcement, according to the new AARP Public Policy Institute study released in early 2015.
And the recent release of the movie, Decoding Annie Parker, has also made the concept of BRCA testing and prophylactic surgery more main stream. Thus the number of cases Dr. Whitfield sees like this in his office have increased significantly, "Once a patient has been tested and they find out the lifetime risk, they have decisions they have to make and they are complicated ones. And these are often very young patients."
Saving lives
Patients facing these complicated decisions will find guidance and help through genetic counseling and many other sources like friends and family. Dr. Whitfield sees his role as a plastic surgeon as one where, "We don't try to steer anyone to surgery or away from it. We just try to counsel them on if you have surgery, these can be your expectations. We will always help each patient but never try to sway them in their decision making."