"How long will my facelift last?" That is a question Dr. Mark Pinsky of Palm Beach Gardens, Florida often hears from his patients. In this PSC round table, Dr. Pinsky is joined by colleagues Dr. Camille Cash of Houston, Dr. Ashley Gordon of Austin, and Dr. Stafford Broumand of New York City to discuss this oft-posed question.
Facelifts vs. Fillers
The vast majority of patients considering facial rejuvenation begin by seeking Botox and dermal fillers. These minimally-invasive antidotes to aging continue to be among the most requested procedures, greatly outnumbering the demand for surgical procedures like facelifts.
Fillers and Botox, however, are temporary solutions for adding volume. The treatment needs to be repeated anywhere from every 3 months for Botox to 1-2 years for the longest-lasting fillers. So while "Liquid Facelifts" are an incredibly effective, relatively simple, and far less expensive rejuvenation for patients not quite ready for a facelift, they are but temporary. When gravity and aging has done their inevitable work, fillers and Botox will no longer be enough; a traditional, surgical facelift lifts and repositions sagging tissues – fillers can only fill.
Candidates for a Facelift
Faces age in many different ways and at different rates. Not often does the same procedure work for different patients; everyone is unique in their anatomy and also have aged in unique ways. A combination of procedures is sometimes the right path to achieve the results you desire. A traditional facelift is indicated if you are noticing sagging, hollowing, or sinking of your face. Loss of facial contours and definition, puffiness, and deep lines and folds can also be improved through facelift surgeries. Additionally if the eyelids and eyes are an issue, an upper and/or lower eyelid lift or brow lift can be designed to deliver a more holistic facial rejuvenation.
Factors in Longevity of a Facelift
According to Dr. Cash, several factors aside from surgical expertise influence a facelift. "It depends upon the patient's genetics, anatomy, skin quality and their age at the time they decide to have a facelift." Dr. Gordon concurs. "When a patient has a facelift at a younger age, their skin is usually better quality because of the collagen and elastin, so I think the result lasts longer. There is more volume there to begin with."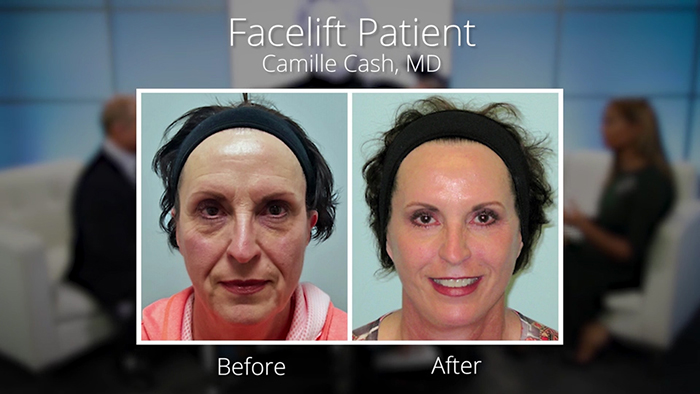 Both surgeons agree the patient will look better longer if the facelift is maintained with subtle use of fillers and Botox over time, in addition to regular and effective skincare. While fillers are not interchangeable with facelifts, they certainly can be complementary. Serious sun connoisseurs and/or heavy smokers will never experience the same longevity as the facelift patient who avoids the sun, never smokes and is vigilant about skincare.
When all factors are maximized, a well done facelift can last 5-10 years. Keep in mind that a facelift doesn't stop the clock, it just rewinds it. Patients continue to age; the difference is, after a facelift, they are "resetting" their age in appearance.
Tailored, Not Tightened
Dr. Broumand emphasizes that new facelift techniques offer beautiful, natural-looking results that replace the tight, expressionless, "overhaul" looks of years past. "No two faces are alike, and depending upon their collagen, elasticity and bone structure, different approaches might be used," he explains. "In addition, the amount and location of excess skin in the neck, cheeks, or jowls must be assessed. Everyone ages differently and we have tools to subtly target and improve areas specific to each patient, man or woman."
Dr. Pinsky makes the point that extra tightening doesn't translate into a longer lasting facelift – just an overly pulled appearance. Dr. Cash adds, "What happens if the face is over tightened is the patient will heal into an unnatural appearance. It doesn't change the way they age, but their features will have changed." Examples are pixie ears, loss of hairlines, elevated hairlines, hollowed eyes or wide scars. "These certainly don't fix themselves over time," shes notes. These changes can be permanent and full correction can be difficult even with revisional surgery.
The Best Facelift
While much depends upon the patient, the surgeon and her or his skill and experience must be paramount. All facelifts are not the same because surgical skill is so variable – even among trained plastic surgeons. Broumand mentions the "sweet spot" when performing a facelift: "If it is done right, you will never hear someone say, 'You got a great facelift.' People will just comment on how good you look. But an overfilled, windswept, poorly performed procedure is obvious to everyone.""
In this way, the ideal facelift should not be advertised across your face. Friends and family shouldn't see you and immediately think "surgery".  Under the best circumstances, facial rejuvenation with a facelift should simply attempt to rewind the clock on your face, not attempt to craft something that never was.